Gun Grips Ultra Thin* cocobolo grips have created a new dimension in 1911 compactness. The panels are 40% thinner reducing the overall thickness of the pistol by almost a 1/4 of an inch. Ultra Thin grips enhance comfort in a carry/concealment application. Special modified
screws, bushings and allen wrench are furnished with the grips.
These modified screws & bushings are hex head steel with standard 1911 head diameter, enhancing the appearance of the Ultra Thin* grips. You can select either Blued or Stainless steel screws from the drop down box next to the purchase buttons below.

Each Ultra Thin* grip panel is 40% thinner, making the overall width of the pistol almost 1/4 inch thinner.
A new dimension in compactness.
Ideal for conceal and carry.
Ultra Thin* 1911 Traditional Double Diamond
Cocobolo only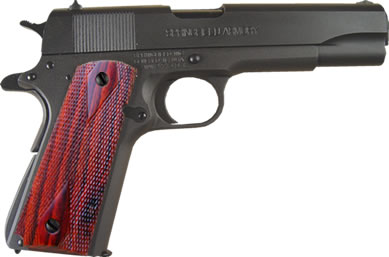 The classic checkering pattern for the 1911, in an Ultra Thin* model. Checkering is custom quality cut by artisans to 18 lines per inch. The large diamonds around the screw holes have a polished satin sheen finish with zero open pores.
Click here for more screws, bushings, tools & hardware